UNDR THE COSH at Fans Museum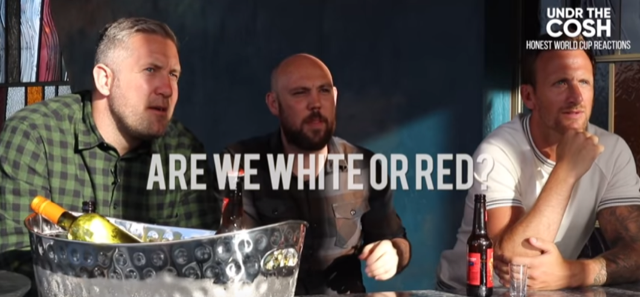 Sunderland's Fans Museum Chosen As Venue For Social Media Hit 'Honest World Cup Reactions' For England's Crunch Last 16 Clash Versus Colombia.
Ex Sunderland centre forward Chris Brown, who made 66 appearances during his time at the Stadium of Light, has become an internet sensation alongside former strike partner Jon Parkin and Manchester based writer Chris Brown with their unique 'Gogglebox' style analysis of England's quest for World Cup glory out in Russia
After a high profile debut on a rooftop terrace overlooking the City of London, which definitely took the Undr The Cosh team out of their comfort zone, they brought it back down to earth for Sunday's game against Panama by filming in Parkin's local working mens club in Barnsley.
Looking for a suitable venue in Sunderland for future England games, they were delighted when Michael Ganley offered the Sunderland Fans Museum for next Tuesday's last 16 game v Colombia where the Undr The Cosh team will meet invited guests before recording their reactions to the England game which are released the following morning on social media. To say they are a bit different to what we hear from the regular TV pundits is an understatement – they are brutally honest but that just adds to the 'boys down the pub' appeal of Parkin and Brown.
Ganley now wants to take this one step further and use it as an opportunity to showcase the sporting talent that has come from the City Of Sunderland by inviting anyone from the Sunderland or the surrounding area who has represented England at international level to come along and give their support to England.
Ganley said 'a speculative email has quickly escalated into a great opportunity to promote Sunderland. The Undr The Cosh team are
hoping for 1 million social media views for England's last 16 game which would be great exposure for the City in the lead up to the Tall Ships and we now are now aiming to get former internationals from all sports to join us for the evening and inspire the
next generation. Our target is a full starting eleven of home grown heroes but it really is a case of the more the merrier'
Parkin commented 'we all hoped this might capture the imagination of the public given how popular fly on the wall shows are but we have exceeded all expectations. We just want England continue to do well so we can record more as we are all having a great time. We are grateful for the support of Black Type, (co-founded by two Sunderland supporters and boasting former Sunderland keeper David Preece on their team sheet as Head of Media) who are opening doors for us that we didn't expect.
At the beginning of the month I was watching Masar win the Derby for Godolphin on my sofa then last week I was taking part in a charity penalty shoot out for the Injured Jockeys Fund at Ripon races where I presented Godolphin with a signed football – I just hope that now has pride of place on the mantelpiece back in Dubai'
Preece concluded "Black Type's whole ethos is about standing out and consequently we are delighted to be able to support Michael and The Fans Museum in the lead up to their official opening on 11th July.
The Fans Museum is a unique project which football fans around the country will be able to enjoy when visiting Sunderland for away games. Bringing the Honest World Cup Reactions to Sunderland is just the first of many exciting events Black Type are planning with the Fans Museum and we hope the sporting stars from the region are able to come out in force for England's last 16 game. Our slogan for the World Cup is #BELIEVE which is something we definitely do in the future success of the Fans Museum and the City of Sunderland!"
Find out more about this on our Events page
Big game tomorrow! Heading down to @browny159 's neck of the woods for another 'Honest Reaction Video' for England v Columbia @FansMuseum in Sunderland. Getting down to the real nitty-gritty now. Can't wait #Honestreactions #Believe #itscomimghome
with @blacktypebet pic.twitter.com/P1JUeaO49g

— UndrTheCosh (@UndrTheCosh) July 2, 2018